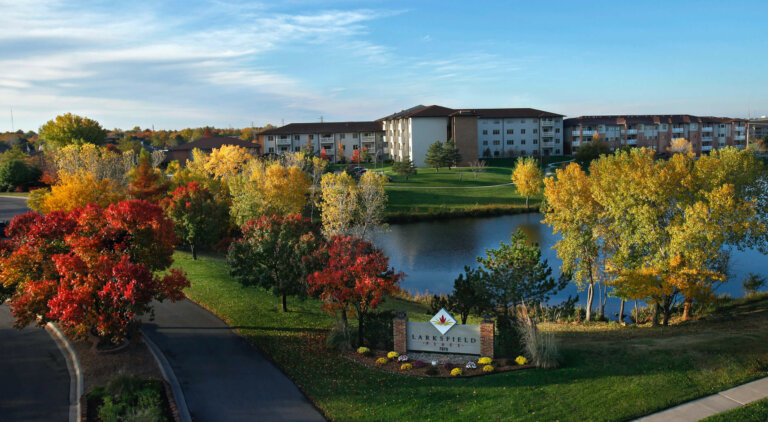 < Back to Blog List
The Path at Larksfield
"Just living is not enough. One must have sunshine, freedom, and a little flower." – Hans Christian Andersen
The Path at Larksfield project is the construction of the 1.5-mile path on our beautiful 60-acre campus. The project, approved and supported by our Board of Directors is the first step of our Master Plan and will be funded exclusively through donations.
We anticipate a four-fold approach to donations:
Management and Board of Directors/Board of Trustees – 100% of the members of the Board of Directors and our Executive Leadership Team will make a financial contribution to this project.
Residents – The backbone is the current population who, like prior Larksfield generations, are determined to continue to 'pay it forward' to bless the next generation of residents.
Community – Larksfield stakeholders, past or present: family members whose loved one has received care at Larksfield, or just persons who consider Larksfield a civic anchor of excellence.
Legacy Gifts – a dinner for anyone who may consider a large gift, who would like to have additional information in consideration of such a gift.
The formal Pathway Fundraising will launch on May 4th and conclude with a Legacy Dinner on June 15th. However, gifts have already begun to be received and will continue to be accepted after that date. For those inspired by Jason Wiley's presentation of the path and scientific support that, among other things, shows how an outdoor project such as this inspires the spirit, leads to a longer and better life, improves brain health and sleep, decreases depression, and facilitates socialization and exercise, this letter is for your consideration.
Larksfield desires to learn your level of financial support for a path that could serve as the 'tipping point' for a Master Plan that spurs additional development including expanded dining, new Independent Living units, and a new state-of-the-art Enriched Aging Center. In short, the Larksfield heritage is the foundation for a new chapter, one in which historic partnerships are renewed with WSU, KU, Wesley Medical Center, Botanica, the Art Museum, the Zoo, and other like-minded friends who cherish successful aging, reminiscent of Larksfield's founders.
A few benefits to ponder: Prof. Diana Grigsby-Toussaint, "If there is a way for persons over 65 to spend time in nature, it would improve their quality of sleep and their quality of life."
Nature improves brain health. Stress is bad for the brain… brain waves were calmer and quieter when they entered parks and planted areas.
We need vitamin D for a strong immune response, and exposure to sunlight is the top way to get it. Vitamin D is also important for bone health.
Being in nature lengthens life. A study by Penn State found that people who spend time in nature tend to have greater longevity.
Nature inspires the spirit. A study from the University of California, Berkeley found that being in nature can give us a sense of something larger than ourselves, and feelings of perspective and well-being.