Learn About Us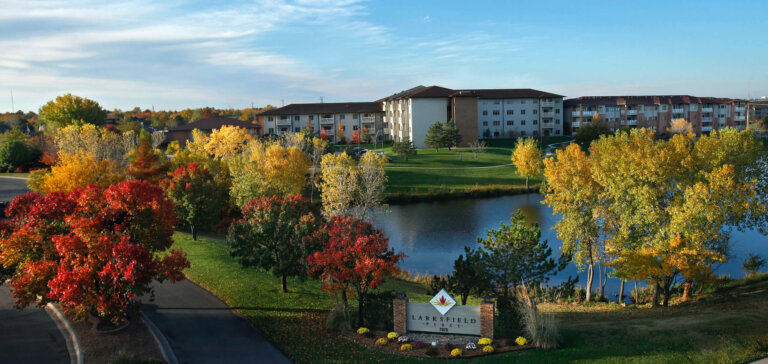 A Premier Retirement Community
Larksfield Place has been serving Wichita since 1988. We are a non-for-profit life plan community. Our campus consists of 22 free-standing villas, 170 independent living apartment homes, 72 assisted living apartments and 83 licensed nursing care beds in the Skilled Nursing and Rehabilitation Center.
Our Mission
As the premier retirement community of South-Central Kansas, we exist to enrich the lives of discerning older adults by providing distinctive lifestyle, health and wellness services.
Larksfield's reputation for service is one of the best in the nation. We are a stand-alone, locally managed community. You'll find members of our leadership team sitting next to residents at dinner, not in some office in a far-away city. Our lines of communication are always open. Anyone is welcome to make suggestions to staff members and management.
As a not-for-profit organization, we don't pay dividends to stockholders; we reinvest our earnings into our mission. Compared to traditional retirement communities, not-for-profits typically invest more in crucial areas such as health care and staffing.
Executive Leadership
With decades of experience in the senior living industry, our leadership team collaborates to fully meet the needs of residents and improve their quality of life at Larksfield.
Executive Leadership
Our leadership team brings skills and talents honed over decades with a belief that every interaction is an opportunity for a meaningful, engaging connection. Together, they focus on meeting resident needs and improving the quality of life for everyone at Larkfsfield.
Mike Hambley

President & CEO

Tim Nikkel

Chief Financial Officer

Vanessa Underwood

VP Health Services & Health Center Administrator

Chelsea Powell

VP Human Resources

Tammy Flaming

VP of Marketing

Karen Nelson

Director of Nursing
Our Staff Makes a Difference
Our dedicated staff is one of the many reasons Larksfield Place is the premier retirement community in Kansas.
Donna Spree

Director of Environmental Services

Staff since 1993

Jeremy Gingerich

Director of Community Life

Staff Since 1999

Amy Hall

Director of Health Promotion

Staff since 2000

Ed Jewett

Director of Information Technology

Staff since 2014

Robby Butterfield

Director of Plant Operations

Staff Since 2018