Why Larksfield Independent Living?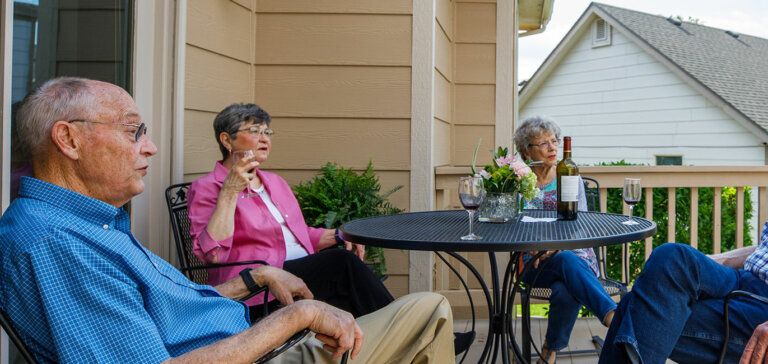 Live the active, independent life you love with peace of mind. You'll join other independent adults who enjoy maintenance-free living, premium amenities, time to explore new interests, and the security of knowing you have a plan for the future.
We have also have created printable senior living guides and resources to help make learning about life at Larksfield easier than ever!
Programs For Active Seniors
Our community provides a safe, secure environment with all the comforts of home. At Larksfield Place, you will have round-the-clock security, staff members, and licensed nurses on hand.
The Independent Living community provides a residential setting where you can engage in community life and enjoy the luxuries of private accommodations in an apartment-style or villa home.
Residents live vibrant lives and participate in various outside and indoor activities, on and off-campus. For convenience, our programs also provide transportation for residents who want to go shopping or to scheduled off-campus events.
Socialize with like-minded individuals in an active community with easy access to delicious meals, health and wellness classes, and opportunities to explore your hobbies.
Choose from multiple floor plans, all designed with convenience in mind.
On-Campus Activities Include:
Larksfield residents can pursue their passions through any number of activities.
• Fitness classes, with indoor pool and putting green
• Creative art classes
• Music classes and recitals
• Write a personal story with help from our "I, Witness to History" program
• Educational and cultural seminars
• Walking and biking across our beautiful campus
• Themed parties, events, and socials
Activities and Programs For Healthy Independent Living
While Larksfield Place offers a world of sophisticated amenities and rewarding activities just outside your door, you will be pleased to discover you can choose the size of your apartment home or villa, with options ranging from 600 to 2,500 square feet. See our Resident Testimonials and learn about their experiences at Larksfield Place.
Learn essential downsizing tips that can help make your move a smooth one
Discover the many amenities available to residents at Larksfield Place. Our community offers an abundance of activities, amazing restaurants, a state-of-the-art Health Center, and free membership to our campus fitness center and all-season pool. It adds up to the best maintenance-free living you can find in the Wichita area.
Get answers to frequently asked questions.