FAQ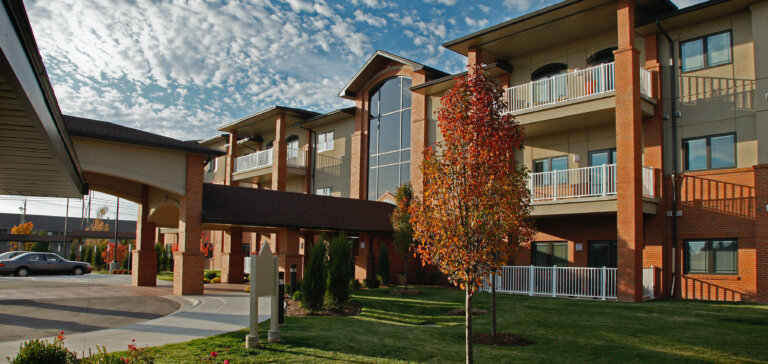 Do you have questions about moving to or visiting our community? You've come to the right place. We've compiled a list of our most frequently asked questions to assist you.
Larksfield Place is a not-for-profit Continuing Care Retirement Community (CCRC). Our community consists of 22 free-standing Villas, 170 independent living apartment homes, 72 assisted living apartments, 90 licensed nursing care beds in the Health Care & Rehabilitation Center (on-campus nursing home).
Larksfield Place opened for business in 1988.
A Continuing Care Retirement Community (CCRC) provides a range of services, amenities, and health and wellness programs to help residents stay healthy and independent for as long as possible. Three levels of care are available: independent living, assisted living and skilled nursing care. As a CCRC, we can provide a full-service retirement home forever, which brings peace of mind to residents and their families.
Larksfield Place is a stand-alone community with a mission to serve older adults.
A deed is not exchanged; thus there is not an actual "buy" event. You make a deposit at the time you move into your Villa or Apartment Home. These deposits are 80% refundable at the time you discharge from Larksfield Place and the Villa or Apartment Home is reoccupied.
The deposit you make up-front is 80% refundable. Prior to the refund, Larksfield Place uses these monies to secure future services and care for residents. Additional monthly service fees include a flexible meal plan, all utilities except telephone, use of the Fitness Club with the availability of a personal trainer, bi-weekly housekeeping, computer assistance in the Business Center, use of the indoor swimming pool, complimentary transportation to special events and trips; plus so much more. Your monthly fee varies according to the size of the Apartment Home or Villa and the number of residents occupying the Apartment Home or Villa.
Yes, Motorized Chairs can be used in the independent living areas after the driver meets our safety qualifications.
Day-to-day dress in the Larksfield Dining Room is not formal. Casual dress is acceptable, excluding tank tops, tee-shirts, shorts, and flip-flop shoes.
Yes, you may have guests for meals in the Larksfield Dining Room. Reservations for guests are requested in person with our dining room staff. (Meals other than the standard menu may require special handling).  Reservations in the Bistro are not necessary.
Yes. Both garages and/or carports are available on a month-by-month basis with an applicable fee assigned. Open-surface parking can be assigned at no cost. Villa Homes include attached garage parking.
Yes. Around-the-clock security is maintained in the Apartment Home areas as well as across the campus. Gates are secured each night and opened each morning. A security person is available at any time for emergencies.
Emergency bracelets and pendants are provided. If activated, a telephone call is placed to Larksfield Place Communications who will coordinate an immediate response.
You do not need homeowner's insurance, but we do encourage you to maintain a personal belongings policy/Renter's Policy.
The independent living apartment homes, Villas and Assisted Living residences are strictly private pay. The Health Care Center does accept Medicare and Medicaid.