Rehabilitation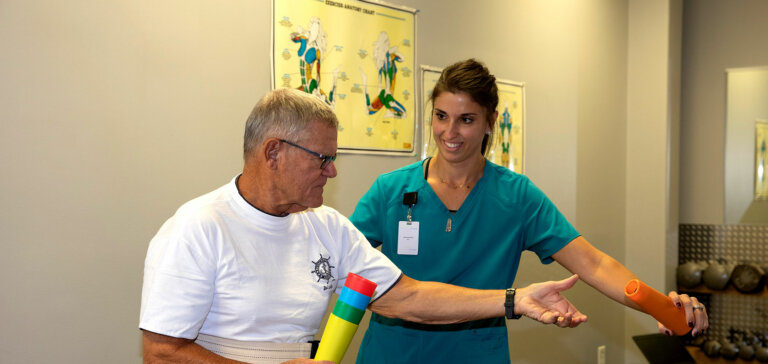 Inpatient and outpatient rehabilitation programs at Larksfield Place Health Center will get you back to being yourself quicker. When patients are admitted into outpatient programs, it indicates that they are doing well enough to be home. Their doctors have confidence in them completing their course of therapy through outpatient rehabilitation. Typically, a therapy session lasts from 30 minutes to an hour.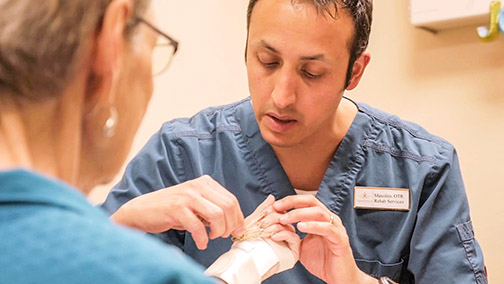 "You don't have to be a Larksfield resident to benefit from our senior rehabilitation services."
Larksfield Place Health Center offers a full range of senior rehabilitation services staffed by licensed, certified therapists who have extensive experience working with older adults. Our therapists work closely with other caregiving team members so that all nursing, dining, and rehabilitative services are consistent. Upon discharge, our therapy team can follow you to your own home for continued treatment if it is necessary.
Rehabilitation at Larksfield consists of a complete on-site senior rehab gym and modalities including ultrasound, e-stim, diathermy, weights, cardio equipment, and private treatment areas.
Physical Therapy will create a plan of care to help you improve your strength, balance, and endurance.
Occupational Therapy will work with you to master activities of daily living such as bathing, dressing, meal preparation, and other skills.
Speech-Language Therapy not only benefits speech recovery, language and swallowing functions but also aids memory by addressing challenges related to communication.
Senior Rehabilitation Programs Include:
What Makes Us Different:
• One-on-one patient-centered care – we listen to you
• Patient-moderated care that moves at your pace
• Personalized therapy
• Educational sessions
• Assistance with your transition home
• Follow-up care as needed

Floor Plans Larksfield Rehabilitation Center Wichita KS
Get back to doing what you love, whether it's playing your favorite sport or just enjoying everyday life. Our caregiving team will work with you to customize a rehabilitation plan for rebuilding your skills.