Senior Health Services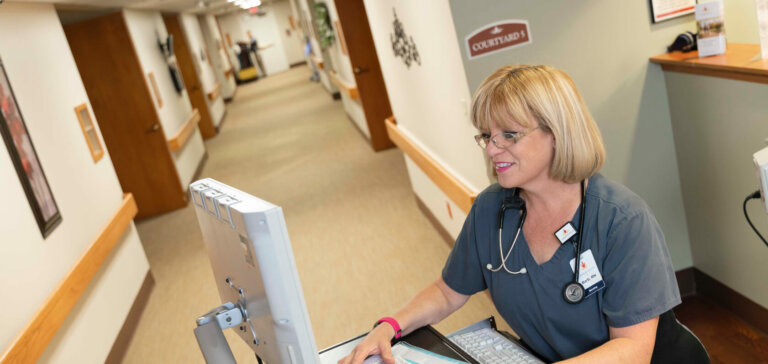 Top-Rated Senior Health Services
Larksfield Place has the most highly trained and experienced nurses, pharmacists, and therapists in the Wichita area. Dedicated social workers and administrative staff help to ensure residents have a smooth and successful transition. Our team goes above and beyond to provide each resident and guest with the best quality care to ensure everyone can live their best life in retirement.
We acquire our talented team through unique partnerships with area universities and nursing schools, including the University of Kansas School of Medicine, Wichita State University, and Wichita Area Technical College. Our nurses and staff stay with Larksfield Place because they love working with their patients. The patient's families become the staff's extended family. This caring environment creates a warm, homelike atmosphere.
Our Proactive Approach to Health Services & Personalized Care Plans
At Larksfield Place, we are known for exceptionally high standards and unsurpassed service. We provide an interdisciplinary approach that brings together the expertise of specialists to create each individualized health plan for residents. From occupational, physical, and speech therapists, dietitians, and nutritionists, our team works in cohesion to develop and provide you with your personalized program.
Our Health Center offers activities to support life enrichment, quality of life, engagement, and socialization. At Larksfield Health Center, we provide supervision with fall risks and support for behaviors, confusion, and redirection with programming to keep our residents being successful and independent at their highest level. Activities offered 12 hours a day, 7 days a week, including music therapy, art therapy, cognitive programs, exercise and fitness, concerts, happy hour, church, and more.