Resident Cost of Independent Living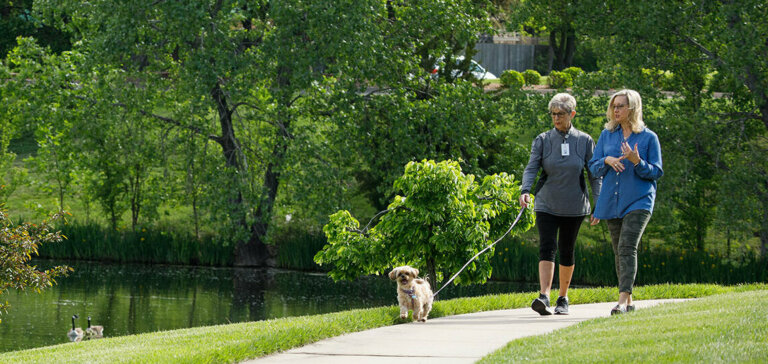 Cost of Independent Living & Benefits
We want loved ones to make the most out of their retirement, which means alleviating financial burdens and unplanned expenses. That is why there are only two basic costs associated with living at Larksfield Place:
90% Refundable Entrance Deposit – A one-time 90% Refundable Entrance Deposit that is returned to your loved ones or their estate if they ever leave Larksfield Place.
Monthly Service Fee – A monthly service package that covers all regular bills except telephone and gives your loved ones access to a host of campus services amenities.
Our Budgeting Guide for loved ones is perfect for planning independent living costs.
A straight forward refund process
The refundable portion of the entrance Fee Deposit is paid within thirty days after the residence is reoccupied and the new resident has paid the entire Entrance Fee Deposit per the Residency Agreement. Such period shall not exceed 360 days.*
*Individuals who settled on their Larksfield Place apartment home before July 1, 2014, may have a different refund schedule. Please see your specific Residency Agreement for details about the timing of your refund.
Example pricing
This price chart is for reference only. A wide variety of floor plans are available, with specific pricing determined by size, style, location and special features like balconies and patios.
Contact us to discuss current pricing and availability.
Independent Residence (Note: 90% Refundable Entrance Deposit)
| | | |
| --- | --- | --- |
| Apartment Type | Entry Fee | Monthly Service Fee |
| One Bedroom, One Bath | From $97,000 | From $1,920 |
| Two Bedroom, Two Bath | From $143,000 | From $2,960 |
| Large Two Bedroom, Two Bath | From $184,000 | From $3,430 |
| Deluxe Two Bedroom, Two Bath with Laundry | From $260,000 | From $4,740 |
| Two Bedroom Villa | From $240,000 | From $2,470 |
Apt. 2nd person is an additional $600 per month service fee
Monthly service fee
The amount you pay for regular expenses stays the same all year long, thanks to our Monthly Service Fee package.
The Monthly Service Fee Includes:
| | |
| --- | --- |
| • All utilities, including Cox Extended Cable and Internet Services (excluding telephone) | • Maintenance Services, including major repairs and replacement of appliances |
| • Flat Linens Washed Weekly | • Professional lawn care and grounds upkeep |
| • Bi-weekly Housekeeping | • Emergency Nursing Staff |
| • Full Kitchens | • Fitness Club with Personal Trainers |
| • 24 Hour Security | • Scheduled shuttle service to activities |
Enriched Senior Lifestyle With Local Activities & Amenities
Apartments offer Garage Parking for $60 per month and Carport parking for $40 per month.
Evaluating Independent Senior Living Costs & Life Planning
Larksfield is a recognized leader in retirement living. Click here to learn more about our life plan community or stay up to date on our continual commitment of personalized professional care by visiting our senior living blog. We are dedicated to providing an all encompassing experience here in Wichita, Kansas. Our