Introducing the Possibilities – Explore Senior Living Choices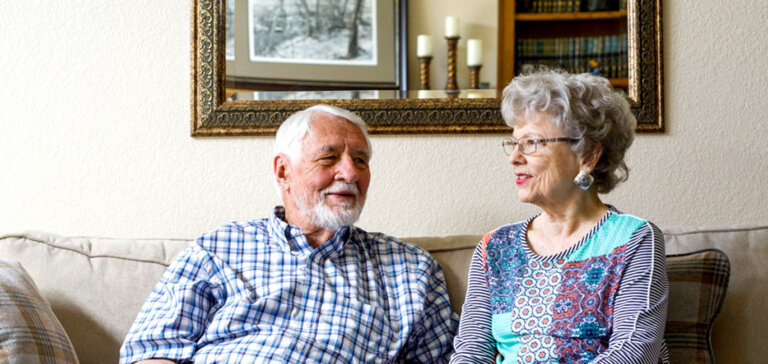 How do you talk to a loved one about the advantages of a retirement community? The conversation is easier than you think. Here are some tips on how to begin.
Prepare & Learn About Preferences For Senior Living Choices
Before initiating the conversation understand the positive aspects arising from this transition.
Ask some questions. What are your loved one's goals? What is important to them in this season of life? Will your loved one benefit from a helping hand with activities of daily living such as bathing or remembering to take their medication? Are there indications of balance or mobility challenges that Larksfield's nationally recognized fitness team could address?
Senior Living Choices For Retirement
Larksfield Place provides not only Independent Living, and Assisted Living but also Skilled Nursing to facilitate independence. With a wide array of services in a residential environment, residents gain the support they need and live the life they choose.
Do your research. Look into senior living choices and the levels of care offered.
Learn the advantages of a continuous care retirement community (CCRC) so that you and your loved ones can appreciate the benefits of the Larksfield experience.
Assess the scope of services the community provides.
Inquire about safety protocols in case of emergency. Learn about the different facilities' security. Peace of mind is essential. Your loved one prizes safety and desires security, as well as a dynamic day-to-day experience.
Be sure to talk to family members to create a united front.
Conduct a Healthy Conversation
Now that you've prepared, sit down with your family member to have this conversation, sooner rather than later! Here are some tips for having a smooth talk.
Empathize. Put yourself in your family member's shoes. They've taken care of you their whole life, and now it's your turn to return the favor.
Offer options, not advice. Express your concerns rather than telling them what they should do. Listen to their concerns by offering open-ended questions.
Remember, you are part of their decision process, not the other way around! Ask your loved ones permission to participate in their decision. The last thing they want is to be a burden on someone they love; they will likely welcome your input. Ask questions and be a part of the solution.
Plan to talk again. This will be a process over time, so begin to have this conversation soon and set a date.
Plan a visit. Ask your parents about the benefits of living in a retirement community.  Learning and not lecturing creates a friendly context for discussion.  What have they heard from their peers?

To make things easier use our printable resource guides to help learn about our services.
Conclusion
Having a plan and keeping communication lines open are vital to a productive conversation with your loved one. This conversation can strengthen and enrich your relationship with your loved ones and give you and them peace of mind.