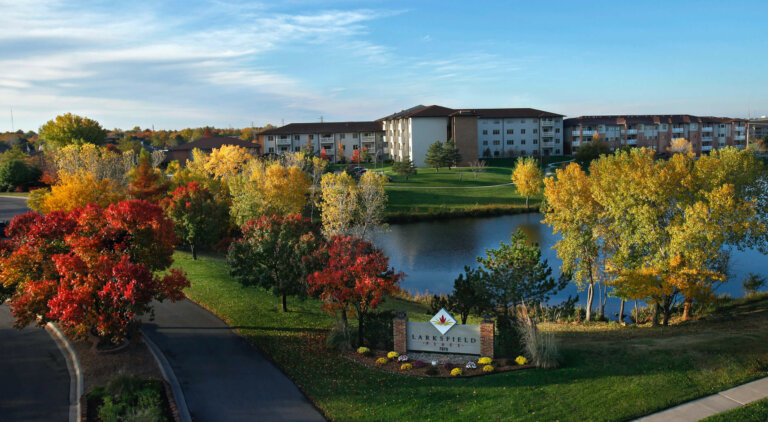 < Back to Blog List
Choose Larksfield Place Life Plan Community for Greater Peace of Mind
Whether it's Independent Living, Assisted Living, Memory Support, Adult Day and Respite Services, Skilled Nursing or Home Health, Larksfield Place offers the support, the services, and the environment you expect within a true continuum of care.  From complex medical and rehabilitative care to high-touch supportive care on a temporary or permanent basis, residency at Larksfield comes with a guaranty of access to the best care and services at cost levels unavailable to the public.  Best of all, every service is provided by Larksfield employees, at one location, trained and dedicated to exceed your expectations.
Being the best and exceeding expectations is about being better, not just saying it but backing it up. For twenty-five years, Larksfield has built a deserved reputation as the Wichita leader in retirement living and senior health care by putting our focus on quality, care and service. Today, we aren't about to relinquish this reputation or our position.
Our staffing ratios in our Health Care Center are the best in the industry with a commitment of five direct nursing care hours per resident per day. Our care teams are led by Registered Nurses on every shift backed by Licensed Professional Nurses. Most important, all of our care services are provided by Larksfield employees, not by others whose interests may be separate from our interests. Whether its rehabilitation therapies staffed by licensed Physical, Occupational or Speech therapists or our activity programs headed by degreed Recreational, Art and Music therapists, our care is provided by Larksfield staff, qualified, degreed, licensed and committed to being the best.
There is a reason that our partnerships with University of Kansas School of Medicine-Wichita and Wichita State University exist. They need the best environments for their students to learn and they need partners that commit to quality, research and innovation. A quick search will lead you to published Larksfield research in partnership with University of Kansas and participation in national studies funded by Robert Wood Johnson on advanced practices in care giving and the reduction in unnecessary hospitalizations. Our senior leadership team is comprised of nationally recognized experts in their field; published, quoted, and frequent speakers on a national and local level on best practices in senior health care.
Five Star Healthcare, Voted Wichita's Best Retirement Community, Twenty-Seven Years of Service to Wichita and Kansas: Larksfield is the Continuum of Choice. Thank you Wichita.