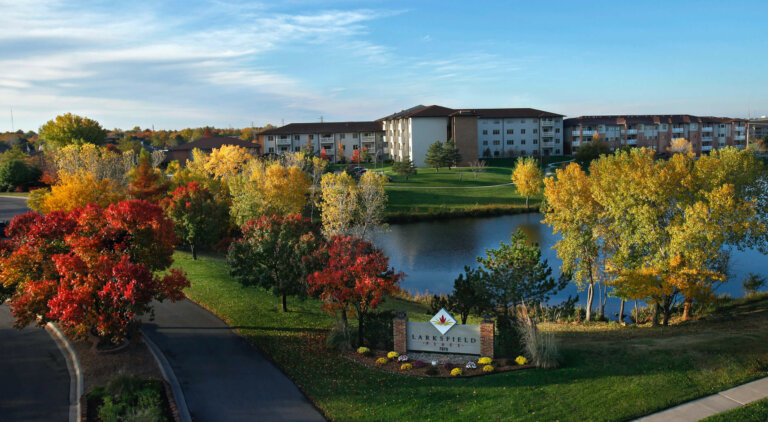 < Back to Blog List
Larksfield Place COVID Information and Guest Guidelines
Independent Living:
We request all residents to follow new CDC guidance for vaccinated and unvaccinated individuals and wear a facemask in common spaces and in public. Temporarily, refrain from having guests in common areas, including dining, although guests are permitted in private rooms. All guests must screen in through the Well Screening portal and wear a visitor badge while on campus. Guests should take the most direct route to their destination and wear masks while on campus. For your safety and the safety of your neighbors, practice safe social distancing and hand-sanitizing. All visitors are required to complete the WellScreen process at the main entrance. You may schedule an appointment by calling 316.636.1000.
Larksfield Place follows Centers for Medicare and Medicaid (CMS) and the Kansas Department for Aging and Disability Services (KDADS) protocols for infection prevention.
Assisted Living:
Guest visits are scheduled 9am-7:30pm on weekdays and 8am-5pm on weekends. You may schedule an appointment by calling 316.361.2800.
Please note the following visitation guidelines:
Please schedule your visit in advance, 316.361.2800
Residents are to wear a mask in all common areas
Residents and visitors are to wear masks for the duration of their visit inside the building
Food and drink should not be brought to share during the visit
Do not visit if you have experienced any symptoms of COVID-19 or been exposed to a positive person within the last 14 days
If you develop symptoms or test positive within 48 hours after your visit, please notify us immediately
You must screen for signs and symptoms at the WellScreen kiosk in the entryway
Hand sanitizer should be used upon entry to the facility and resident room or visitation area
Health Center
All residents were tested today with no additional positive resident cases. With the exception of new residents, visitation has resumed facility wide by appointment during visiting hours.
Please note –
New residents will be tested on admission and in quarantine and placed in transmission-based precautions until testing again on day 3, regardless of vaccination status.
Quarantine and precautions will be lifted on day 3 for vaccinated residents that test negative.
Quarantine and precautions will resume for the full 14 days after admission for residents that are unvaccinated that test negative.
We continue monitoring all residents every shift for signs and symptoms. Staff are screened before each shift and tested according to Federal and Local health department guidelines. If you have any questions, please reach out to your Point of Contact or the Director of Nursing or Administrator. Thank you for your continued support.
For more information on Covid-19 policy visit the CDC guidelines on their website.