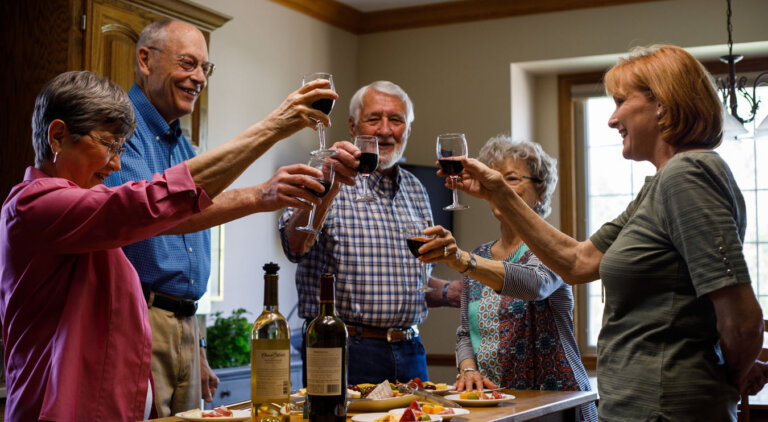 < Back to Blog List
Benefits of Independent Living Programs
The decision to move out of a family home can be difficult for some seniors. Many people dream of aging in place, but few realize how many risks and responsibilities come along with staying in the same home well into old age. Communities change, houses require more maintenance as time and inclement weather take their toll, and features that used to be convenient like multiple-story floor plans and walk-in showers can become safety risks.
Exploring Options and Independent Living Benefits
For most seniors, finding independent living communities with transitional care and assisted living services can provide a much better alternative to aging in place. When it comes to comfort, financial health, and overall enjoyment of life the Independent Living programs with these options can facilitate a higher quality of life. Longevity, peace of mind, and the quality of care that residents desire is a benefit for loved ones knowing their family or friends are cared for holistically.
Improved Safety and Security
Safety should be a priority for any senior and his or her loved ones. Independent living communities are designed to provide a safe, secure environment that provides all the comfort of home without any of the risks.
All independent living communities provide single-story apartments with accessible bathrooms, so there's no need to worry about potentially devastating falls down the stairs or in the shower. These apartments range substantially in size and amenities from affordable small apartment floor plans to deluxe two-bedroom villas.
Good senior living communities provide round-the-clock security and have staff members and licensed nurses on-hand 24/7 to provide assistance in the case of emergencies, as well. Seniors living in these communities don't have to worry about protecting themselves from potential intruders, nor will they be left to handle injuries, sudden health complications, and other potential issues alone.
As people age, the communities they have lived in all their lives change. Friends and family members move away, new neighbors move in, and seniors quickly find that they no longer have the vibrant social lives they're used to. Moving to an independent living community won't just encourage seniors to make new friends by providing them with a vibrant community of their peers, but will also give them access to organized group activities right on the premises.
Adequate social exposure is important, especially for seniors. A vibrant social life can help stave off serious problems such as depression and anxiety. It can also act as a protective factor against the onset of dementia.
Residents at independent living communities are allowed to have guests, so they don't need to worry about giving up cherished visits with family and friends. The primary difference is that they'll also be encouraged to socialize with their peers, right in the comfort of their own communities.
Group and Individual Transportation
Seniors who no longer have drivers' licenses face more problems than just increased social isolation. If they live in suburban neighborhoods, rural areas, or city neighborhoods without easy access to shopping, restaurants, and doctor's offices, even simple chores can become a huge and expensive hassle.
Independent living communities provide transportation for seniors who want to go shopping, attend community events, or head to doctors' appointments. This cuts out the need for unnecessarily long walks, public transportation, or expensive ride-sharing arrangements.
Residents of independent living communities have more options when it comes to preparing and consuming delicious, nutritious meals. Every apartment is outfitted with a full kitchen but residents are also encouraged to visit the community dining room. There, they will be served high-quality food prepared by expert chefs in the company of their new friends.
Most independent living communities offer plenty of options, and the chefs are used to accommodating health or lifestyle-related dietary restrictions. Eating high-quality food in a welcoming, social environment can help seniors stay healthy and avoid the common pitfalls of diminished appetite leading to poor nutrition.
More Time for Personal Enjoyment
Seniors who own their homes often find that they waste most of their free time keeping up with bills, doing chores, and dealing with all the minor maintenance and repair tasks that come up around the house instead of enjoying their retirement. That's not an issue at independent living communities because they provide everything from bi-weekly housekeeping to maintenance and repair services. These benefits of independent living programs give residents more time to enjoy fun activities, make new friends, and pursue their passions.
Safely Maintain Independence
Independent living communities are not nursing homes. Residents are free to come and go as they please, lock the doors to their apartments, and participate or abstain from events depending on their whims.
Moving to a community means that as residents age and begin to experience health complications or even mild dementia, they can continue to live in the same communities they have come to know and love. This level of care makes it possible for seniors to maintain their independence even in the face of physical or cognitive decline.
The collective effect of the many benefits listed above is to provide seniors with increased peace of mind. With all the responsibilities of homeownership and worries about what to do in the face of potential health complications behind them, residents can focus on enjoying their golden years. Plus, their family members and friends will feel better knowing that their loved ones are happy, comfortable, and safe.
Moving to an independent living community doesn't have to be stressful. In fact, most residents find that once the stress of moving to a new apartment is behind them, they can't imagine living anywhere else. Thankfully, the benefits of modern independent living communities provide a continuum of care, so there's no need for seniors to move out if they begin experiencing mobility issues or mild cognitive decline.
Benefits Of Independent living At Larksfield
That being said, not all communities are created equal. Look for one that has an excellent reputation among its current residents and provides all the amenities they need to live independent, fulfilling lives. Seniors or their loved ones can find out about retirement community living prices at Larksfield Place by searching the website or calling for more information today.