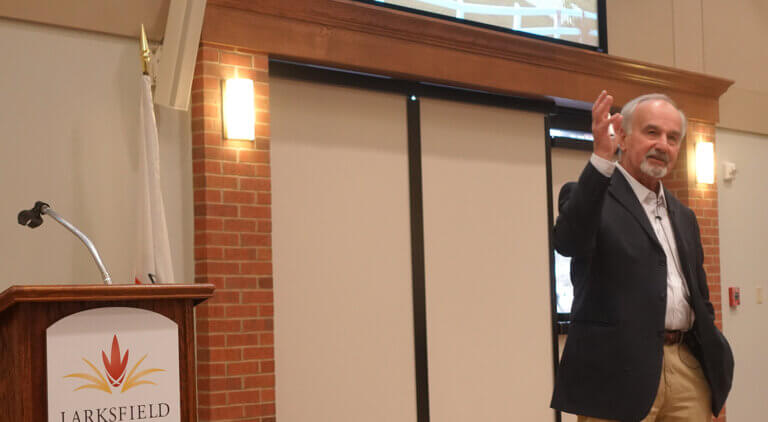 < Back to Blog List
Dr. Roger Landry at Larksfield Place: "Healthy Longevity: Where You Live Matters"
November 14, 2022, was a very special day for our retirement community at Larksfield Place as we welcomed Dr. Roger Landry, MD, MPH, President of Masterpiece and author of "Live Long, Die Short." Dr. Landry is a visionary thought leader who inspires a counter-cultural revolution to embrace aging, elevate expectations and be all you can be. A preventive medicine physician, author, and decorated military veteran, Dr. Landry tackles the most persistent aging stereotypes with wit, humor, and charm.
Our day with Dr. Landry began with a panel discussion featuring Larksfield Place residents and staff, as well as our colleagues from Wichita State University. We enjoyed a lively discussion on intergenerational initiatives and possibilities in our communities.
After lunch, the Clark Life Enrichment Center was filled to capacity to hear Dr. Landry speak. In his engaging style, often peppered with humorous anecdotes and images, he showed us how getting older does not have to be a time of steady decline but instead a time of continued growth and highest functioning for as long as possible. It's all about the choices we make! Some of those choices include adding more movement to your life, eating healthy, keeping your brain stimulated and avoiding an isolated lifestyle. All these factors come into play when considering not just how you live, but where you live. Finding a quality retirement community can be a key to living your best life. He was very complimentary of Larksfield Place and said he would put it in the top 3% of retirement communities he has seen.
Afterward, we had a reception in our Bistro and enjoyed the smooth jazz sounds of the Key of Love Quartet featuring vocalist Keeya Love and our own Director of Mission Integration & Chaplaincy, Rev. Jermaine Pennington, at the piano. What a wonderful day of inspiration for living well! Dr. Landry motivated us to seek purpose, connection, and continued growth and believe that at any age, the rest of life can be the best.
Learn more about our Senior Health Services and Life Plan Community for active seniors.