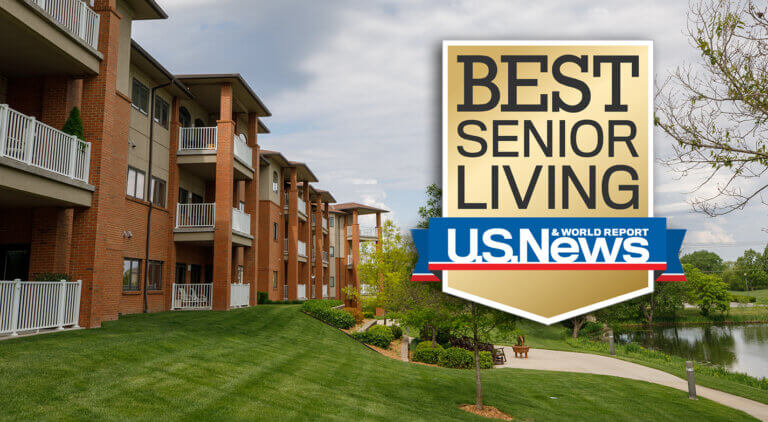 < Back to Blog List
Larksfield Place Honored in U.S. News "Best Senior Living" Publication
Larksfield Place has been chosen to be among the more than 1,200 senior living communities recognized in the inaugural U.S. News Best Senior Living publication. Larksfield Place received a special citation in the Best Nursing Living category with the highest performing rating.
U.S. News awards the designation of Best Senior Living only to those communities that satisfy U.S. News's objective statistical assessment of each senior living community's performance from consumer satisfaction surveys administered between March 2021 and February 2022, reflecting the viewpoints of more than 200,000 current residents and family members of residents living in thousands of senior living communities nationwide.
"We are proud of the character and culture of our staff who passionately serve residents, giving their best every day, every contact, and in every situation, said Mike Hambley, President and CEO of Larksfield Place. "Our 5 Star Health Center is complimented by our Independent Living and Assisted Living locations which merit recognition, too, as they were named in the US News Reports for scoring highly against peers in the same categories."
The U.S. News Best Senior Living ratings and profiles offer comprehensive information and exclusive analysis of consumer satisfaction data evaluating such factors as community & activity, food & dining, caregiving, and management & staff for nearly 2,500 communities in the continental U.S. and Hawaii.
"Until now, families have had limited information when comparing providers of independent living, assisted living, memory care or continuing care," said Ben Harder, managing editor and chief of health analysis for U.S. News and World Report. "The Best Senior Living ratings fill this informational gap with comprehensive and transparent data to help older consumers and their families identify high-quality senior living communities that meet their needs and preferences." For more information behind the data analyzed in the U.S. News ratings for Senior Living, please refer to the methodology