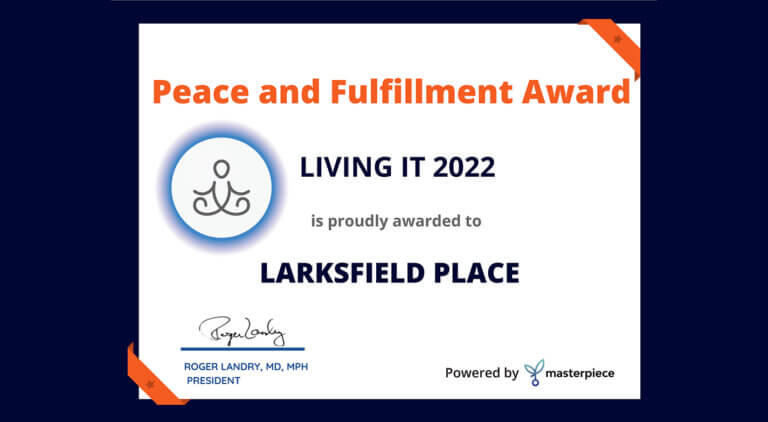 < Back to Blog List
Larksfield Place Wins Masterpiece Living It Award
We at Larksfield Place are honored to have been selected as the recipient of Masterpiece's 2022 Peace and Fulfillment Award as part of Masterpiece's Living It campaign! We are one of four retirement communities in the nation recognized for the award. Masterpiece is a national organization dedicated to providing a pathway for cultivating growth, resilience, and purposeful longevity. As the representative of Masterpiece put it: "We loved the Living on Purpose video series! Thank you so much for participating in Living It and inspiring everyone!"
The Living It campaign is an opportunity to inspire and challenge organizations to try new pursuits in the four areas of focus of healthy longevity: Social Engagement, Intellectual Vitality, Physical Health, and Peace and Fulfillment. Research has shown that trying new and complex pursuits creates new neural pathways in the brain, which can lead to improvements in memory and learning capacity.
This year's winners for each area of focus are: Larksfield Place (Peace and Fulfillment), The Crossings at Eastchase (Intellectual Vitality), Grandview Terrace (Physical Health) and The Crossings at Ironbridge (Social Engagement).
Thank you to everyone who made this possible – Dr. Jermaine Pennington, VP of Life Enrichment, who coordinated the program, VP of Marketing Tammy Flaming for setting up the recording studio, Creative Marketing Specialist Patty Ringgenberg for interviewing and video editing and our wonderful guests, Larksfield residents George and Marjean Fooshee, Helen Bullock, Dr. Jim Kuhlmann, Chuck Clark, Marilyn Killian and Larksfield Board of Directors member Dr. Louis Medvene!