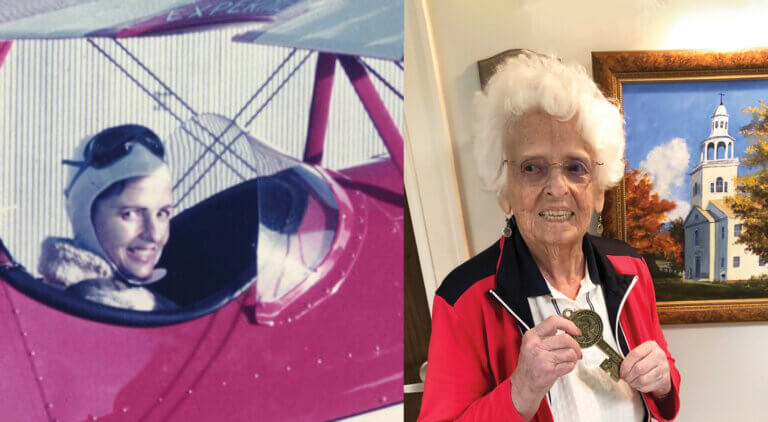 < Back to Blog List
Larksfield Resident and Aviation Pioneer Mary Aikins Honored by City
View this article in the May 2023 Issue of Active Age publication https://theactiveage.com/current-issue/
Aviation pioneer honored by city
By Joe Stumpe
As a young mother, Mary Aikins led family getaways that looked a little different than most.
"I'd put the kids in a plane and take off for California," Aikins remembers.
In a plane she piloted, that is. Allowing for fuel stops in Albuquerque and Needles, Calif., the trip to her mother's home in Palm Springs took about half a day.
Of her three children, Aikins said, "I just told them they had to behave because I was going to be busy."
Aviation was both a passion and career for Aikins, who gave flying lessons, competed in cross-country races, mastered aerobatic flying and helped many other Wichitans get their private pilots' licenses.
In March, Wichita Mayor Brandon Whipple presented Aikins a key to the city during her 97th birthday party. It came at the request of Ben Sauceda, executive director of the Kansas Aviation Museum, who said she had "accomplished a great deal and represented our city well."
Aikins grew up in Wichita and on a farm outside Derby her parents bought as World War II approached. There she helped raise a garden, turkeys and other livestock "so we didn't need food (ration) stamps" during the war.
Planning to follow her father, William Ainsworth, into the oil business, she majored in geology and geography at the University of Kansas. But her plans changed after meeting a pre-dental student named Charles "Todd" Aikins. They married before her senior year, she finished her degree at the University of Missouri-Kansas City, and her husband went into the oil business with a partner, Bill Owen, in Wichita.
After the partners decided to buy a small plane, Aikins said, "His wife and I decided that if they were going to be flying that plane around, we better learn how to land it."
That was 1962. And as it turned out, Aikins became the main pilot in the family.
In the 1960s, she was a regular in the Powder Puff Derby, a transcontinental race for female pilots. In 1964, Aikins and her second cousin, Mary Ann Noah of Mission Hills, Kan., teamed up to win the race, which ran from Fresno to Atlantic City that year. The next year, they repeated their win on a route from El Cajon to Chattanooga, flying a Piper Cherokee both times.
By then, she had also taken up aerobatic flying, performing loops and rolls in a Pitts Special, a light biplane. As she turned the plane upside down on her first solo effort, she recalls, the engine cut out and wouldn't start again.
"I had to dead stick it" — slang for a landing with no power — "and land at the airport, which was right below me. That was scary."
She became proficient enough to give lessons in aerobatic as well as regular flying. Aikins was also tapped by the FAA to help certify private pilots through test flights, a job some might consider as scary as flying upside down. Although most passed, Aikins said those who didn't "usually figured it out themselves" that they weren't cut out to be pilots.
It was an exciting time to be involved in aviation here. "There was just so much of it," she said.
Aikins flew in and out of Canada, Mexico and the Caribbean and once delivered a Cessna to Santiago, Chile. In all, she logged some 10,000 flight hours.
In 2012, Aikins published a book, "Flying High, Flying Far," about her aviation adventures and other interests, which include gardening and artwork. A half-dozen of her paintings line the hall outside her apartment at Larksfield Place.
Aikins is a member of the Kansas Aviation Hall of Fame and a part of the Women in Aviation exhibit at the Kansas Aviation Museum. Not surprisingly, she's never understood people who are afraid of planes.
"Well, they're made to fly," she says matter-of-factly.
As was she.