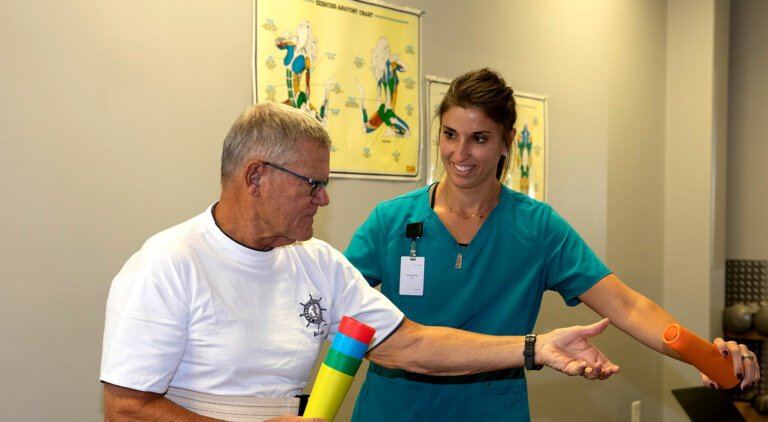 < Back to Blog List
Transitional Care Bridges the Gap
A story often told: "Mom falls at home, breaking her hip.  Surgical repair occurs and Mom heads to the nursing home for therapy/rehabilitation. Medicare covers the majority of the costs at the nursing home but after 20 days, a copayment kicks-in.  Eager to return home, Mom is anticipating discharge.  The care team does a home visit with Mom and lo and behold, her home isn't quite inviting enough for Mom's return – stairs, some adaptive equipment needs in the bath and bedroom, etc. The children are out of town and Mom is alone.  While the kids can get here, they can't stay – jobs and children of their own.  Medicare is ending and Mom needs to leave the nursing home but she just isn't ready for home and the home isn't quite ready for her".  Sound familiar? 
The reality is that this scenario plays out daily – sometimes starting at the hospital, most often as the nursing home stay is about to end. Full recovery isn't just about the physical rehabilitation of the broken bone or bones. It is also about the bridge portion in time; the time when the surgical repair is progressing but daily living tasks may still be a challenge. With family busy and perhaps, a spouse no longer in the picture or able to help, having a "transitional" option could really help.
Learning The Benefits Of Transitional Care
At Larksfield, transitional care has been designed for exactly, this purpose and this story. Within our Assisted Living, the patient can access a private, furnished studio unit with a large, private bath and open shower. With the engagement of Larksfield Home Health, the patient receives continued therapy (from the same therapy staff) and any skilled nursing required. Meals, general assistance and medication management are part of this package of services.
prioritizes patient independence while providing outstanding care
overall better quality of life for patient and caretakers
more affordable option for life planning while still catering to needs
reduces unnecessary readmissions to in-patient care
This transition can last days, weeks or even a month – whatever is necessary for the patient to become fully capable of returning home. And, when time comes to leave, the Larksfield Home Health team is already in place, coordinating care. No gaps in service or support occur. Best of all, the transition is far more affordable (and comfortable) than a stay in a skilled nursing home.
Larksfield is the only organization in Wichita that can offer this complete, continuum of care. The same core staff are always there – inpatient, transition, home and outpatient if needed. Complete care, available from the highest rated, accredited organization in Wichita.